Call Us Now To Find Out How We Will Get Your Home SOLD At A Competitive Price While Other Listings Get Left In The Dust!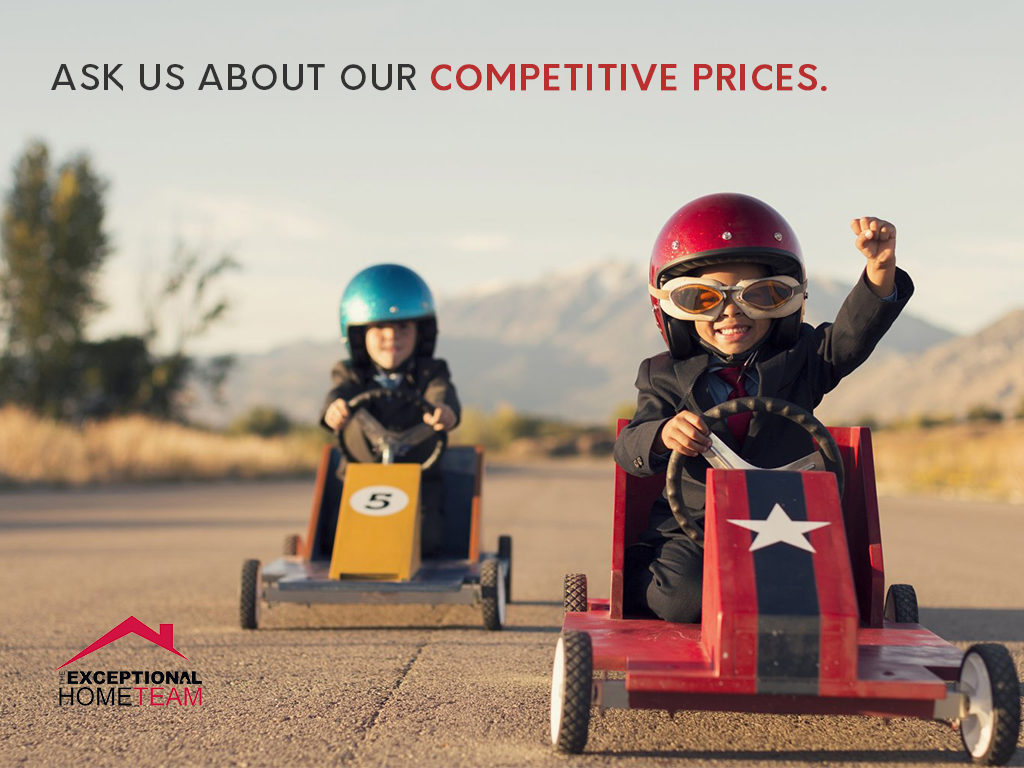 At The Exceptional Home Team, we always set the most competitive prices for our clients' homes. We follow the right pricing and sales practices so you can stay on the right track. Contact us (and contract with us) and we'll pave the way for your selling, buying, and moving success.
---
Don't let pricing your home deter — or detour — you.
Determining the list price for your home is a complex and often emotional process. After all, home is where the heart is. That's why moving can be just as heartbreaking as it is exciting. It's also why finding out that your home's market value might differ from what you feel it's worth can seem like a major roadblock. Don't just steer around the hazard of inappropriate home pricing; eliminate it altogether by partnering with The Exceptional Home Team with a proven track record for home pricing and selling wins.
Our competitive home pricing practices will put you in pole position.
We stand behind our competitive prices because we apply the best industry practices (and the industry's best practices) to every home valuation we do. Every member of The Exceptional Home Team has a keen understanding and awareness of the big picture state of the housing market as well as of local- and neighborhood-level listings and trends. We also have all the information needed to fully assess and understand the current market value of your home at our fingertips, plus the expertise and training necessary to understand, interpret, and apply it.
Our exemplary agents will clear the road for you.
We're ready and able to identify, discuss, and pilot a course around home valuation and sales hazards. Elements like no comps, poor comps, soon-to-expire comps, competing active listings, and other outside forces can lower the market value of your home. Yet we guarantee your satisfaction with our work, and we are dedicated to ensuring you get the best possible price no matter how challenging the course is. We'll give you detailed navigation instructions at the start and along the way to help you get to the list price you want.
We'll be your pit crew at every stop along the way.
Many things can slow down your home's sale. Inappropriate pricing is chief among them, yet even the most competitive listings need support. Practical home improvements, staging, and targeted marketing can all drive buyers' offers towards the best competitive price. Comprehensive support is an integral part of our competitive prices. At every stage in the selling process, we make sure that how your home looks, the way we advertise it, the pictures we take of it, and the methods we use to show it keep your sale running smoothly.
Our finish line isn't just selling your home for a competitive price; it's moving you into your dream home.
Selling your home sets the course for the rest of your moving journey. Your home's sale price may determine what you can afford to purchase next, how much money you will have left over for renovations and furnishings, and, ultimately, whether the road you're on leads to your dream home. Though we can't use what you need or want to inform our valuation of your home, we can (and do) use it to fuel our passion. Work with us, and we'll move you towards your goal using every tool we've got.