Selling Your Home? Ask Us About Our Effortless Selling Process That Gets You Top $ In Less Time.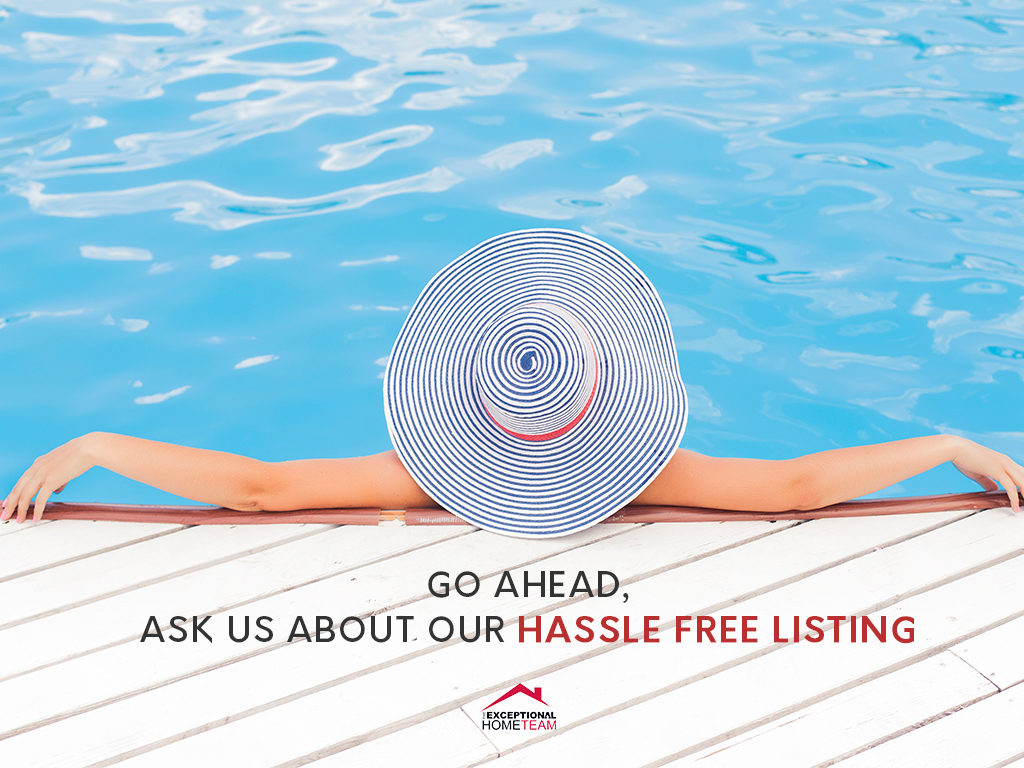 Standard Listing Processes Are Inconvenient & Inefficient
Some people say that moving is the hardest part of selling your house. But the listing process itself is far from perfect.
It's hard to say exactly which part is the worst. Hurry-up-and-wait attitudes, ill-fitting home valuations, inaccurate representations of home condition, and demanding, sometimes disrespectful prospective buyers are all frustrating. What's more, any of these issues can keep you from getting the best price or, worse, prevent you from selling your home at all.
A Better Way To List Your Home
Here at The Exceptional Home Team, we don't agree with low-convenience listing practices. You deserve way better, so that's what we provide. Our hassle-free listing process promises the entire experience is as low-cost, low-stress, and highly effective for you as we can make it. Many real estate agents and agencies keep the exact details of their listing processes under wraps until after you're under contract with them. But because we believe, above all else, that selling your house is all about you, we're more than happy to tell you precisely what you'll get from us from the very beginning.
Get A Free Market Analysis Price Estimate On Our Website
Use our online home valuation tool to get an instant estimate of your home's value. One of our expert agents will conduct a comprehensive market analysis and a price estimate for your home. All free of charge and without a contract.
Receive A Custom Home Valuation And Listing-Period-Specific Pricing Strategy
Our first order of business once you list your home with us is determining the best competitive price for your home. Then, we'll design a pricing strategy for your listing so we'll know what you're comfortable with from the start.
We Arrange A Free Home Staging Evaluation For You
Our professional stager will evaluate your home for market (and showing) preparedness. Then, they'll advise you about the simple improvements, repairs, and adjustments you could make to maximize your home's value and increase its potential for generating (full asking price) offers.
We Assist With Repair And Other Service Completion
We'll assist you by referring trusted vendors, prioritizing, scheduling, and implementing the repairs/improvements you approve. We won't push you to do anything you don't want. What's more, we won't move forward with selling until everything is how you want it.
Get Free Professional Photography
Once you're ready, we'll arrange for a professional photo shoot of your home. We want the photos we use to advertise your property to represent it truthfully, so we work to compile a full professional-grade virtual photo tour of every listing.
We Create A Custom Marketing Plan For Your Home
Our team implements industry-leading marketing plans to maximize your home's exposure to potential buyers. Our marketing practices include social media campaigns, videos, and email marketing. We also have full-time staff responsible for round-the-clock maintenance of your home's unique marketing strategy.
We Pursue Potential Buyers, Personally Show Your Home, And Advocate For You During Every Step Of The Process
Unlike other real estate teams, we dedicate at least three hours per day to actively prospecting for buyers for you. We personally bring buyers through your home, ensuring that showing is as respectful of your space and schedule as possible.
The Result: We'll Sell Your Home for More Money, In Less Time
We understand that listing your home can be an intimidating and vulnerable process. Our no-hassle listing processes seek to keep you as comfortable and in-control as possible during the entire listing period. We are grateful for the risks you take by working with a real estate agent, and we aim to always expectations of us.
For more information about what it's like to sell with us, download our Selling Your Home With Us ebook here!