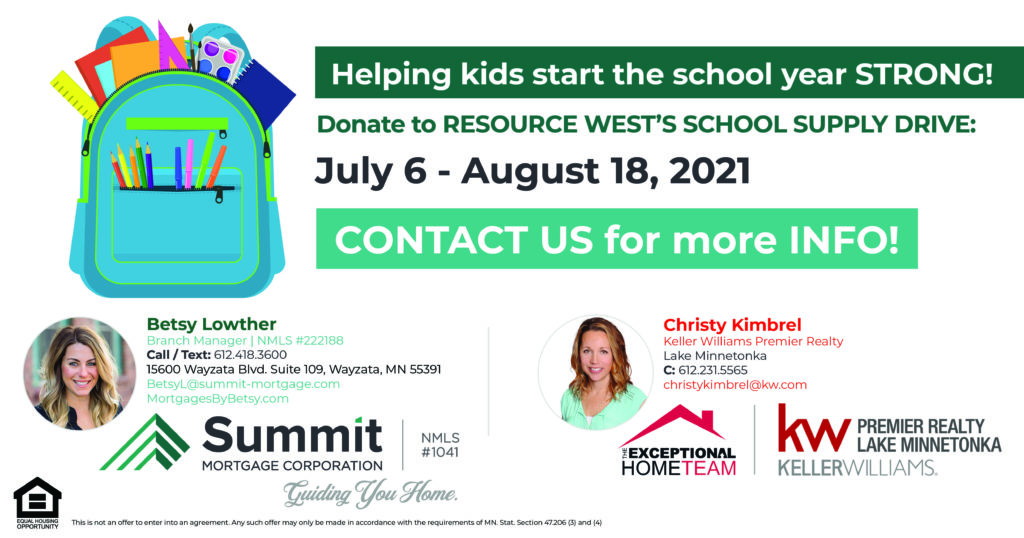 The Exceptional Home Team and Summit Mortgage are partnering with Resource West to help families in need this school year in Hopkins and Minnetonka schools. Donations due by August 16th, 2021
Contact us for more information! Supply Filled backpacks will be delivered to registered families from August 23rd – August 26th.
---

1. Click here to Donate MONEY & we will do the rest! Or drop off a check to one of our office addresses below. 

2. YOU CAN ORDER ITEMS on our AmazonWish List and Target Registry. 

3. DROP OFF YOUR SUPPLIES* at Keller Williams or Summit Mortgage Mon. – Fri. 9am-5pm from now until: August 16th, 2021 *no tax receipt Keller Williams Premier Realty Lake Minnetonka: 13100 Wayzata Blvd #400 Wayzata- MN 55305 Summit Mortgage Office: 15600 Wayzata Blvd. Suite 109 Wayzata, MN 55391
---
Most Needed School Supplies:
New Backpacks for students for Hopkins & Minnetonka students in grades K – 12th grade
Sharpened Yellow Pencils
Crayons – Boxes of 24
Wide & College Ruled Spiral Notebooks
Pocket Folders – Assorted colors
Wide & College Ruled Composition Notebooks
Glue Sticks – Elmers
Index Cards -3x5in packs
Pencil Boxes -5x8in plastic box
Zipper Pencil pouch for 3-ring binder
The ResourceWest tax ID number is 41-1975357. Please ask your tax representative about how the CARES Act of 2020 may benefit you. Thank you for your generosity.
Summary
Event
Location
​
Keller Williams Premier Realty Lake Minnetonka

,

13100 Wayzata Blvd #400

,

Wayzata

,

Minnesota

-

55305
Starting on
Ending on