Just Because You Can Accommodate That Many People In Your Current Home's Entertaining Space Doesn't Always Mean You Should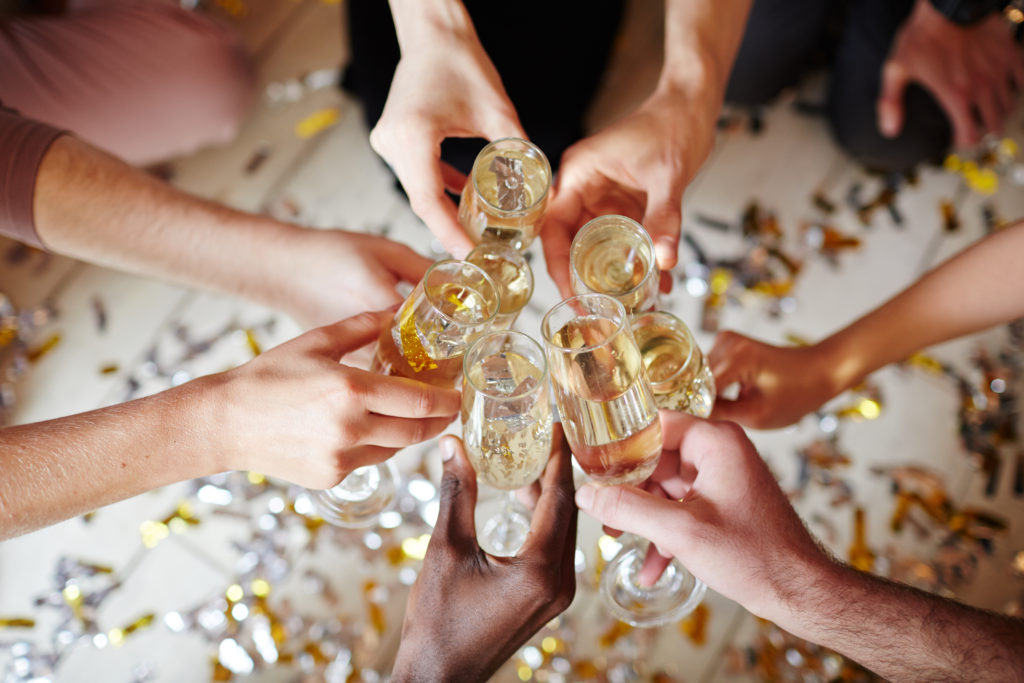 Mathematically speaking, a well-planned entertaining space can be accommodating more people than you'd think. For a packed event (which isn't allowed in the current pandemic), you can generally plan that each guest in attendance will need at least 8-10 square feet of space to exist comfortably. 6 feet and masks are a good guide per the CDC for hosting a small gathering of 3 households and no more than 15 people. Keep in mind that not every inch of your current home is usable space for socializing; you can't expect guests to mingle in the 13-square-feet taken up by the bathtub.
There's no shame in not wanting to pack the house, though. Another reasonable limit on how many people you can have at your New Year's party is the seating. For example, the resident/designer of this 500-square foot apartment regularly hosts 12-15 people at once but limits it to 6-7 for dining events. If you're feeling limited and your partiens are feeling cramped, you might be due for a new home for the new year! If the tips and tricks below don't change things enough to fit all your friends, then a new home may be the best fit for your life!
The Least Practical Strategies For Accommodating A New Year's Eve Party In Your Small Entertaining Space:
Turn up the music down. If it's loud, your guests will have to stand closer together to hear each other talk.
Turn down the heat. This is important: have a coat-check system. Then, when all your guests are without their outerwear, turn down the heat and crack open a couple of windows to allow for fresh air. Not too cold though, you don't want your guests to be freezing and want to be close together for warmth.
As a bonus, if you do these things well, nobody will want you to host the New Year's party at your place next year! And if they do, you likely won't have nearly as many people in attendance.
Moderately Practical Strategies For Accommodating A New Year's Eve Party In Your Small Entertaining Space:
Prepare the food ahead of time. If you don't need the kitchen for cooking, then your guests can more easily be in it socializing.
Put the food and drinks in different areas of the space. This will keep your guests from all clustering in one part of the space to get to the punchline.
Have a mocktail (rather than a cocktail) bar. To keep all of your guests comfortable, you may want to limit the availability of alcohol at your party (people feel sick, aggressive, and tipsy more quickly when drinking in small spaces). There are some delicious, New Year's appropriate, mocktail recipes out there (like this one for a sparkling cranberry orange drink).
Invest in multi-functional furniture (and spaces). Having a drop-leaf table and items that can double as dining chairs can be a lifesaver when transforming a small everyday-living space into a special-event space for a group.
Be careful when picking plates. Keep in mind that a small table (selected to be space-saving) may not be wide enough for the dishes you want to use (selected to be beautiful). A small entertaining space needs small tableware.
Arrange your furniture to maximize the open space. Move unnecessary items (including throw pillows and decorative furniture) out of the space, push larger pieces of furniture up against the walls, and cut back on any extravagant buffet or bar plans.
Know the spacial limits of what you want to do. Generally, you can fit about half as many people in your home for an intimate dinner gathering that you could for a stand-and-chat social event. If you want a dance floor, you can't plan on having people standing talking all over it. Keep in mind that people who don't know each other will be more uncomfortable if you allocate the absolute minimum space per person!
The Most Practical Strategies For Accommodating A New Year's Eve Party In Your Small Entertaining Space:
Get a better entertaining space. Just because you decide to move doesn't mean you have to move far. More than twice as many people stay within the same county when they move than move to another county. If you feel like your entertainment options are limited because the entertainment space in your home is limited, consider moving to a home with more (or more usable) spaces.
Contact The Exceptional Home Team. If you're still struggling to find ways to fit all your visitors in your home, then the best and most valuable advice we can give you is to let us find you a new home where entertaining will be easy!
Find the perfect space for your perfect party. In a new home, you could spend less time moving furniture and narrowing down your guest list to accommodate the space. Instead, focus on throwing the perfect party in the perfect space! If that sounds great to you, contact our real estate team today and let us get you moving so you can get the party (and the new year) started right!