Looking For Options When Selling Your Home? We Have All The Options And Exceptional Service You Have Come To Know From Your Local Real Estate Experts.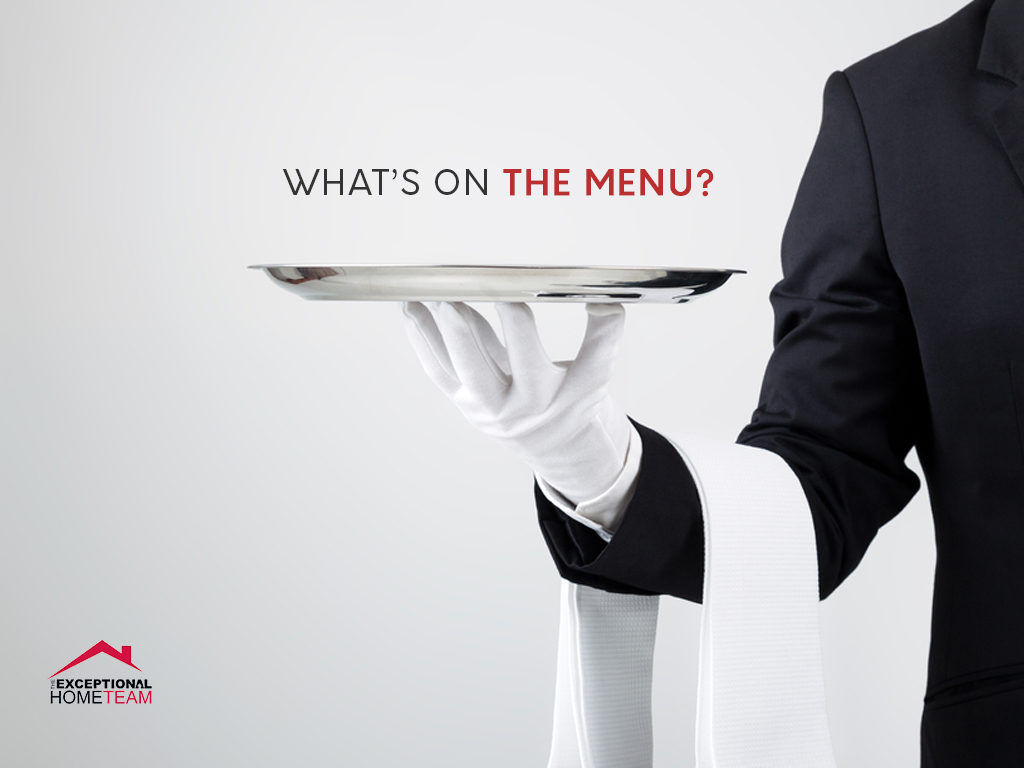 One-size fits all doesn't work in real estate. That's why we developed our menu of services to satisfy the needs of any buyer or seller in response to their unique situation and goals. What's more, our minimum offerings outstrip the actions of other real estate agents. This guarantees that each of our clients gets everything they're craving from their home buying or selling experience, plus some extra service value to take home at the end.
---
Our Home Selling Menu Highlights:
When you trust us to sell your home, we go above and beyond the scope of standard services for real estate agents in service of your goals. All of our services are designed with your convenience in mind so we can minimize the stress and discomfort caused by listing processes.
1. Free Home Valuation
All of our home selling services start with a free estimated home valuation and free market analysis by one of our highly trained team members. That way, our listing process starts with establishing a sense of transparency, efficiency, and personalization in all of our communication with you about your home.
2. Hassle Free Listing
Our unique hassle free listing process includes a free consultation with our expert stager. At that time, you'll receive comprehensive advice about improvements you could make to increase the value and sales potential of your home. Then, we coordinate convenience-focused repair and showing schedules so you can stay comfortable and in control.
3. Our Extended Marketing Research Package
Our minimum marketing for all open houses is 5 degrees greater than the standard actions of other brokerages. We include a yard sign and directional signs with balloons and riders, flyer distribution and email and social media marketing ahead of time, as well as 100+ personally-extended invitations to interested parties.
---
Our Home Buying Menu Highlights:
When you choose to buy a house with the assistance of one of our agents, you get more than just an MLS search provider and a contract-writer. Our Keller Williams company-backed home buying services improve and increase the efficiency of your home search starting the second you first contact us.
1. Assistance From A Team Of Knowledgeable, Experienced Realtors
Our team-based approach ensures that you get more than just a committed ally on your side in all your home search and buying activities. Your buying goals are also supported by all of our experienced real estate agents, their knowledge, and their eyes on the lookout for your dream house.
2. Personalized Home Previewing, Showing, & Market Advice
Your selected real estate agent has access to every home on the market, even non-MLS listings, and will work to identify homes that meet your criteria. Then, you'll be able to review, reject, or save listings to your portal. Your preferences and your interest in properties shape your House Hunt.
3. Our Proven Contracting & Negotiation Services
Often our House Hunt previewing, portal-saving, and home showing process works so well that our clients want to buy the first house we show them. At that time, our expert agents will draw up a contract with your offering price and necessary contingencies into a professional contract with accurate addendums.
---
Ask About Our Menu For Your Listing Or Home Search
Contact us today to schedule your custom buyer consultation or free home valuation! We promise to extend all of the above (and a multitude of other) services to every client, in whatever concentration and combination best suits your unique needs. Whether you're buying or selling for the first time or just for the first time with us, we promise you (just like 95% of our clients) won't ever want to use another agent after us.