Communication Made Simple. Communication Made Easy! You Simply Get More When You Work With The Exceptional Home Team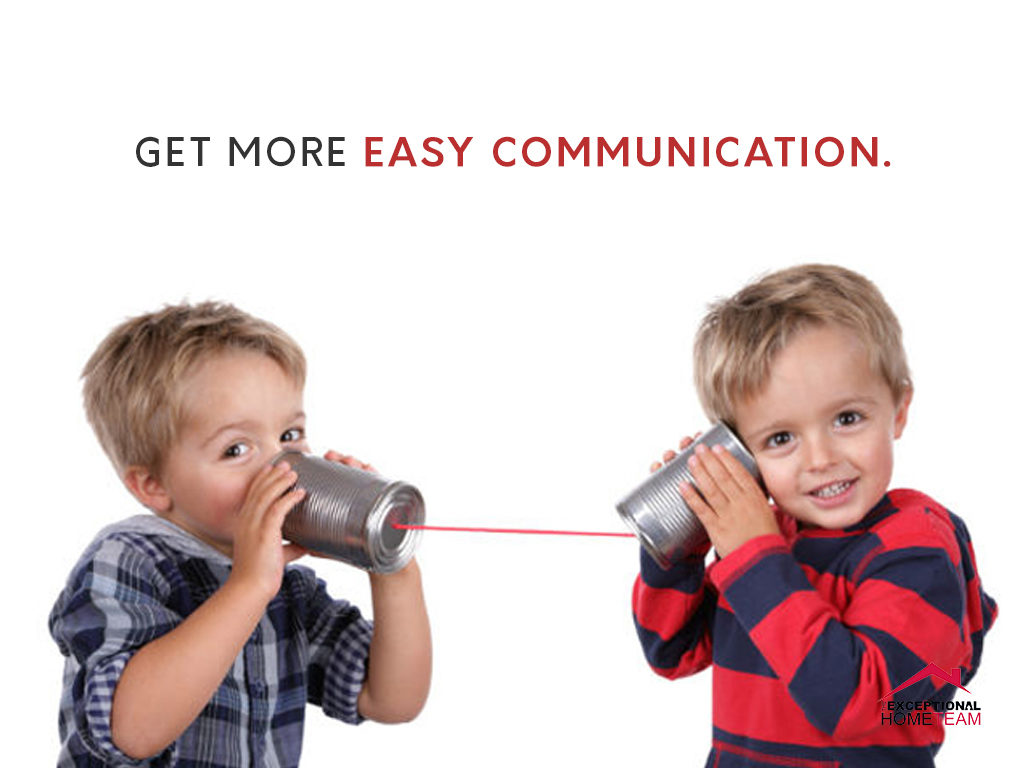 "You simply get more with us."
Poor communication is the number one reason people choose not to work with or are disappointed by their experience working with a real estate agent. For the vast majority of home buyers and sellers, infrequent, slow, imprecise or actively misleading, or nonexistent communication damages and impedes the progress of their home buying or selling journey.
Here at The Exceptional Home Team, we're passionate about providing exceptional service to our clients. Our unparalleled communication policies are a critical cornerstone of our approach to your happiness and success. Communicating with our agents is guaranteed to be simpler, more accessible, more effective, and more flexible than with any other real estate team. Here's how:
You Always Decide What Your Real Estate Agent Does
Other real estate brokerages tell you just to sit back and trust the experts. Here at The Exceptional Home Team, we believe that your expertise about your home (whether current or future) is just as important as the knowledge our real estate agents bring to the table. That's why homeowners who list with us are always a part of the development process for their listing's price strategy as well as staging, showing, and contract negotiation. It's also why our first step working with any buyer is to gain a thorough, individualized understanding of their unique lifestyle, needs, and wishes.
Our Realtors Communicate With You As Often As You Want
What's more, we understand that what works best for one buyer or seller certainly won't work for all of them. For that reason, our real estate agents work with each individual client to understand their unique communication needs. Whether sellers want daily updates or weekly progress reports, our agents' communication practices are flexible and responsive to each client's needs. Our real estate agents' communication with buyers is similarly client-defined, with direct communication and technology-based interactions (like the provision and approval of MLS listings via the client portal) are always at our clients' convenience and based on their highly specified wishes.
You Always Know What Is Happening Behind-The-Scenes With Your Listing or Home Search
Our real estate agents keep no secrets. When working with sellers, they always follow-up with potential buyers or their agents to get their feedback on the property when it's shown. Once they do so, they always pass buyer feedback on to their sellers. Then they discuss potential price adjustments, property repairs/improvements, and staging changes that could make the property sell more efficiently. When working with buyers, our team believes in being similarly upfront with clients. Our expert real estate agents continuously preview listings as they come onto the market, and send clients relevant listings as soon as they become available. What's more, our agents keep both buyers and sellers involved and up-to-date about even the smallest details of the contract negotiation, inspection, and closing.
From Listing To Closing, Your Real Estate Agent Will Keep You In The Loop & In Control
Here at The Exceptional Home Team, every team member understands just how big a decision it is to buy a new home or sell your current home. We have immense respect for our clients and are grateful for the trust you place in us by working with us! That's why we believe that no detail of the buying or selling process is too small for our clients to be aware of, understand, and approve their agents' actions around. Even once a contract appears to be a "done deal" or only has minor or routine steps left to complete, our expert real estate agents maintain regular, transparent contact with our clients.
Our Communication Is Guaranteed To Be Different
Real estate clients are rarely guaranteed a successful experience working with an agent. Instead, they often find themselves in the dark about what's happening with their listing or home search and are too often forced to hunt down their agent to find out. We think that's wrong. Instead, we believe you deserve our complete disclosure and full attention. Your success in buying your dream home or getting the best price possible when selling your current home depends on communication. Your real estate agent must listen to your wants and needs, discuss your options with you, and make plans that are informed by and respectful of the unique parameters of your home search or sales goals. Contact a member of our team today to experience the difference!