With rising values of houses today, mortgage loans are made available to ease the acquiring of a property. Unfortunately, not all of them are as efficient as you think and you end up owing more than your house is worth. If A Fresh Start Is What You Need, Go To TEHT!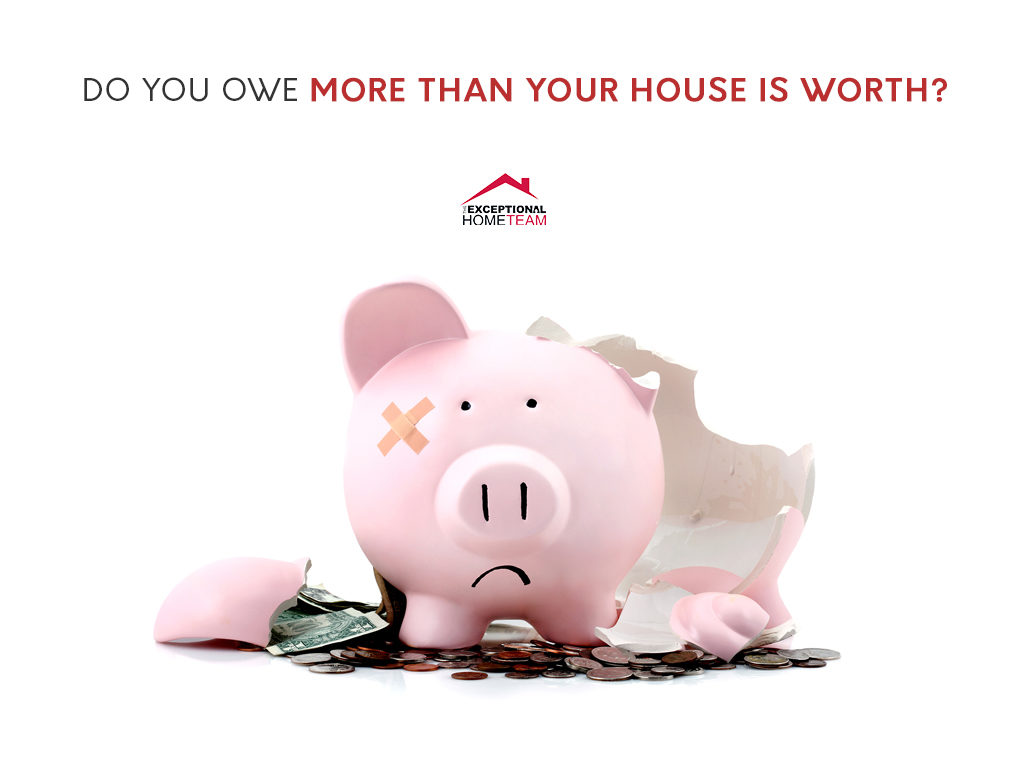 Home values have been on the rise lately, with home sales reaching 18-month highs in mid- to late-2019. While these kinds of market changes often bring many homeowners up out of being underwater, about 9.1% of American homeowners are still underwater on their home mortgage loans. That is, the combined balance of their loans secured by the property is higher than the market value of the home. If you're one of them, then you may feel trapped by your mortgage payments.
At The Exceptional Home Team, we take pride in helping homeowners find the best solutions for their mortgage loan concerns, whether they're underwater, have an adjustable-rate mortgage that's about to rise, or have any other reason for wanting to get out of their current home, fast. Talk to one of our experienced real estate agents today to find out what the best options available to you are, or keep reading to learn more about what you can do to get out from under your home mortgage loan!
What Are Your Options When You Have Negative Equity
Being underwater on your home mortgage loan — otherwise known as having negative equity — is a tough situation. It can feel suffocating, isolating, and like there's nothing you can do except keep paying and hope the market changes in your favor. While waiting it out is certainly an option to homeowners who are able and willing to stay put, there are several other options available that the experienced real estate agents at The Exceptional Home Team are well prepared to help with!
A Short Sale:
Working with the best real estate agent can make a dramatic difference in your situation. That's because a knowledgeable, licensed real estate agent who knows your neighborhood and the specific local market can facilitate a short sale that nets the greatest price possible for your home. A short sale is arguably the best option available to homeowners who are underwater on their home mortgage loans, as it involves negotiating with the lender to agree on settling the loan for a lower sales price. Short sales can be complicated since the lender has to agree to accept the smaller amount. That's why working with an experienced real estate agent dedicated to your success is essential in this process. Though a short sale will hurt your credit score, it is the fastest, easiest way to walk away from a negative equity situation.
Pay Off The Difference:
Another idealized option available to home sellers is to pay off the difference on the loan as a lump-sum after selling. If the home sells quickly (before another month's payment is due), the difference between the value and the balance is close, and the real estate agent can garner an at- or above-asking-price offer, this option lets homeowners walk away with less cash-on-hand but better credit.
Staying Put, Refinancing, Accruing Equity & Value
For sellers who can stay put, waiting to sell until the market turns more in their favor or seeking to refinance may also prove to be good options. Yet both require an indefinite commitment to remaining in the home, which can be a challenge considering that the average homeowner moves every nine years (which is longer than it used to be). It's even more challenging considering that climb to the 9-year mark is primarily due to homeowners having to wait out their underwater mortgage loans; given the freedom to buy and sell when they wanted to, the average American homeowner would move every five or six years. Homeowners choosing to stay put should consider seeking professional real estate advice about how to gain equity in their home, including how to renovate to increase their home's value.
Other Options:
Other, less beneficial options for getting out from under an underwater home loan include foreclosure or offering the deed in place of foreclosure. Neither of these present ideal circumstances for home sellers, as they can make it difficult to buy or even rent another home.
How The Exceptional Home Team Can Help In Efficient Mortgage Loans
Here at The Exceptional Home Team, we know what it means to get out from under poor mortgage conditions. Fortunately, we also know what you can do while you're still in your home to increase its market value. Moreover, we also know the best methods and use the best tools for fairly evaluating your home, generating high-quality sales leads 24/7, and marketing your home so you get high-quality, competitive offers. Regardless of whether you opt for a short sale or to pay off the difference, the higher the offer you accept, the better the outcomes for your personal financial situation. Working with The Exceptional Home Team, you can get out of your home, fast, while also getting the highest price possible for it.
Our Exceptional Home Valuation Process: We take pride in the accuracy of our competitive home valuation process. Our skilled, knowledgeable agents create comprehensive market-based value estimates and pricing strategies for every client. Moreover, we also connect every seller with a professional home stager who can advise them on the best pre-listing renovations and other adjustments they can make to increase their home's value.
Our Exceptional Marketing Processes: We also provide industry-leading marketing for every listing. This includes taking professional photographs, creating digital walk-throughs, and leveraging our entire dedicated marketing team to make sure every listing gets the most high-quality exposure possible. Consequently, our sellers get faster, higher-priced offers because the buyers we find are always the best fit for the home.
Start Your New Life Debt And Stress-Free With Efficient Mortgage Loans
Owing more than your home is worth is stressful. It can make you feel like it's you against the entire real estate market. But if you work with The Exceptional Home Team, you'll always have one of our experienced, licensed real estate agents (and our whole professional team) on your side. You deserve the financial freedom that comes with getting out from under an underwater home loan! Contact The Exceptional Home Team today to find out how we can help.